Find no scarcity in the number of attractions to lay eyes on nor the activities to participate, South Africa ensnares tourists for vacation so voracious it'll keep you wanting more. Family trips are difficult to coordinate but even harder to pick the location that is sure to keep everyone entertained and South Africa answers that perfectly. Wade through this collection of places perfect for a family holiday to South Africa and make your travel the best it could be.
Cape Town:
A city so beautiful it is celebrated as one of the best places to travel in the world, Cape Town is best admired by taking a boat ride with the family observing the diverse marine life out in the sea while looking over the lovely city. The V&A Waterfront, set along the charming harbor with a backdrop of ocean and mountains, is a complex housing aquarium, shopping malls and restaurants serving all age-groups with a world-class collection. The top tourist spot for little ones to be exposed to is Table Mountain, a natural wonder of the world. Ascending the flat top summit in a ride up cable cars is fun and bewitches all with the amazing views of the peninsula. The number of flora and fauna species astounds while restaurant views of the sunset are worldly-renowned in all their splendor. A trip to the colorful Muizenberg Beach is a no-brainer when in Cape Town because it's killer waves, perfect for and learning to surf, amazing restaurants, and "stoke" tasting indulges every desire. A rest stop for weary travelers is this iconic beach that should in no way be overlooked on South Africa tours.
Whale watching:
A short ride from Cape Town lies the quaint town of Hermanus that is a biodiversity reserve of its own being the home to the waters inhabited by migrating whales during the breeding season. Witnessing whales from boats is a thrill as they are at a touching distance while the spectacular coastline also offers a brilliant view of dolphins and whales at the comfort of land. An activity that should be in every traveler's SA to-do list is sure to enthrall families, so sit back and enjoy the view with a picnic.
Boulders Beach Penguins: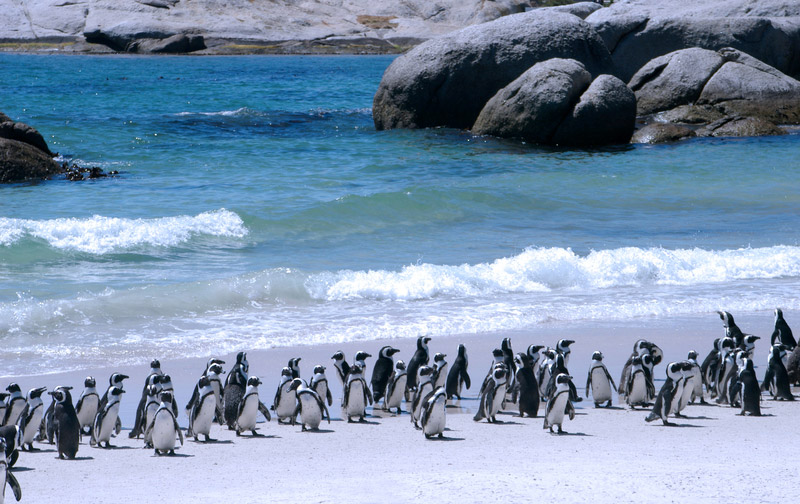 Simon's Town, close to Cape Town, welcomes visitors to glimpse at their distinguishable colony of furry little waddlers, African Penguins. The only place to see and cuddle penguins in the wild is at Boulders Beach. The colony of cute creatures are to be expected on the Antarctic, so just their presence in the tip of South Africa is bound to fascinate everyone in the family.
Biodiversity Parks:
A trip to the Animal Kingdom of South Africa would be incomplete without an excursion to the magnificent Kruger National Park for a once-in-a-lifetime safari to spot the Big 5 with the family. One of the perks of safaris here is food can be consumed anywhere so one can go for hours and hours traversing through the wilderness sans breaks. Blyde River Canyon is another spectacle that surely encapsulates the natural beauty of South Africa with an amazing viewpoint at God's Window. Perk up because spotting and feeding elephants at Knysna Elephant Park is possible and quite honestly an exciting adventure appropriate for the whole family.
South Africa is in itself a huge wildlife reserve, on top of incredible landscapes and delectable native delicacies, making it the ideal family holiday destination. Boasting lovely, warm weather, friendly locals and remarkable regions to scale, it is no wonder that South Africa makes for a wonderful getaway with Pickyourtrail.com's South Africa packages ensuring an indescribable vacation. Get ready to be impressed and fondly frequent the marvel of "a world in one country".